Cleaning Blog
Custom Ultrasonic Cleaning Systems
The Task
We had to design an Ultrasonic Cleaning machine for cleaning nine different parts using Aqueous solution along with water rinsing prior to drying of component , using hot air drying.
The Solution
We provided a 7 stage multichamber cleaning system, out of which 5 stage was for cleaning and rinsing using Aqueous solution, while the other two is for hot air drying. We successfully Particle size of 600 micron.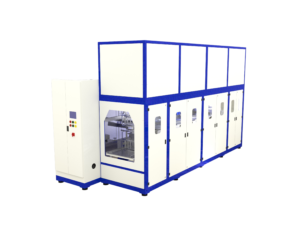 As the volume of production is large 250 litres of tank size was provided. This is one of the largest system provided in North India with minimal time for production.
Advantages
All the chambers was provided with rotation.
Consistent Result In Particle Size.
Leica Micro Scope was used to check the millipore particle size.
Ultrasonic and heat insulation.
Sloped floor for complete emptying.
Edged work area prevents liquid from dropping down.
Beveled cover guides water condensation back to the tank.
Protection against dry running for ultrasound and heating.
Ultrasonic generator is integrated.
Temperature regulation & Timer for ultrasonic activity.
Contents of 36, 50, 70, 110, 170, 250 liters.
Working frequencies 25, 40 kHz.
Tank, cover, sheathing and drainage tap made of stainless steel.
Overflow edge with connection (set watertight).
We also manufacture Industrial ultrasonic cleaners with filtration capability.